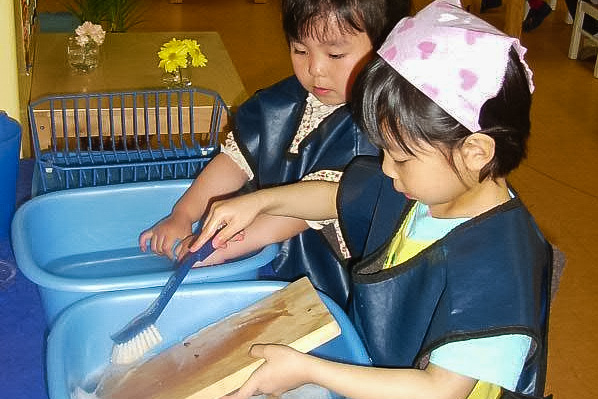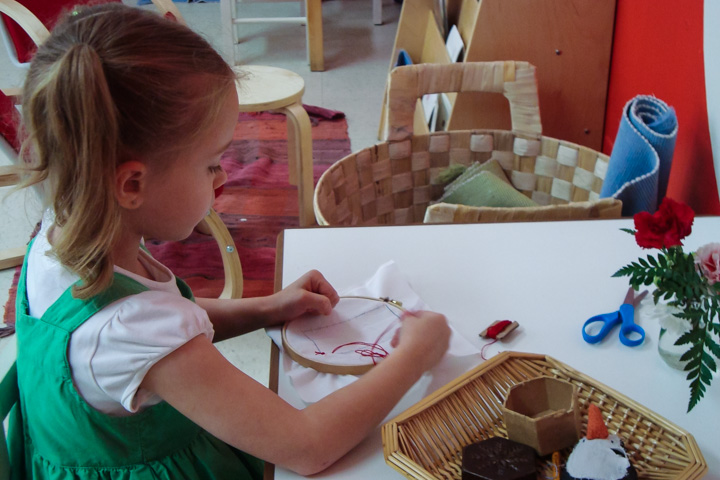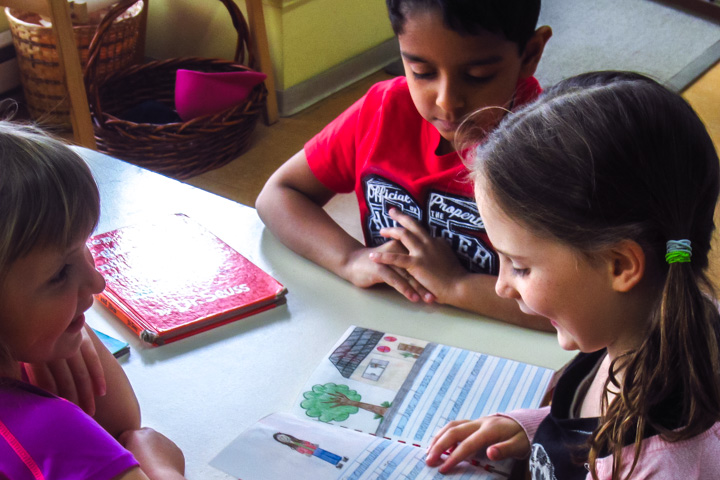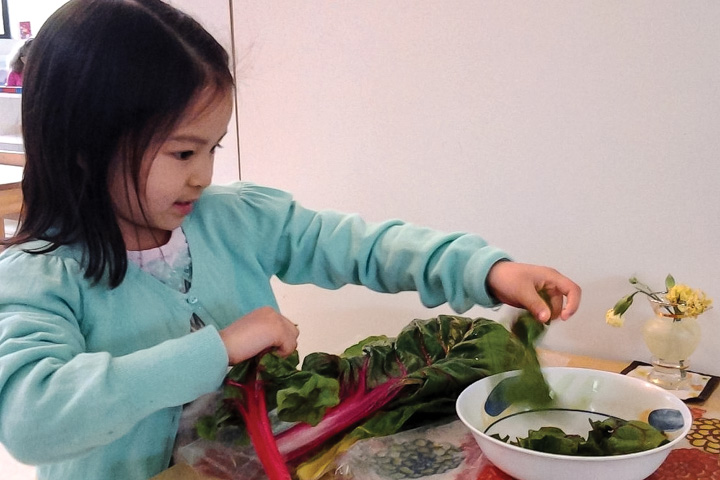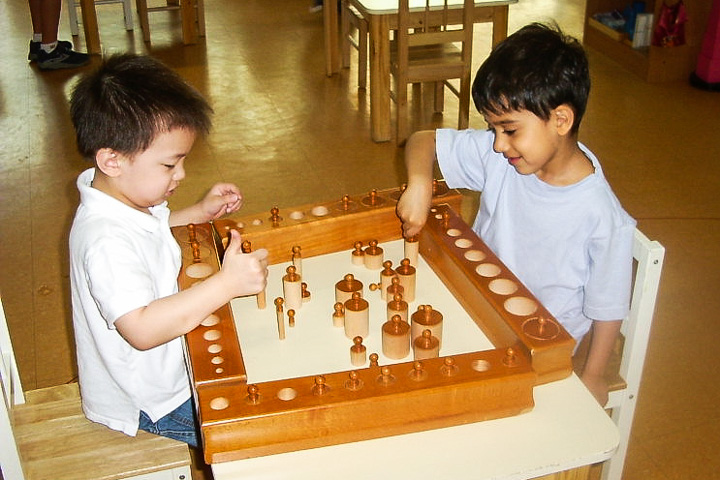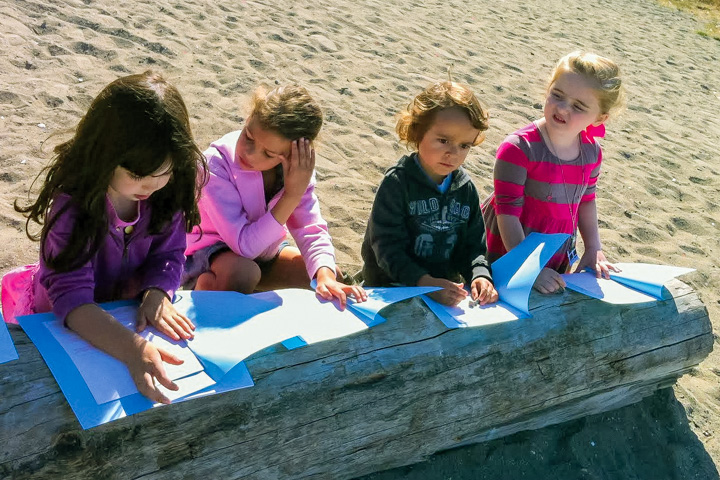 Dr Maria Montessori viewed education as an aid to life. Based upon the natural development of the child, the Montessori approach is designed to help children fulfill their task of inner construction as they grow from childhood to maturity. Montessori classrooms provide a prepared environment where children are free to respond to their natural tendency to explore, which is the work of learning. Each child's innate passion for discovery is encouraged by providing them the opportunity to engage in spontaneous, purposeful activities under the guidance of trained Montessori and early childhood educators. The children develop concentration and joyful self-discipline through active engagement with the Montessori materials. Within a framework of order, the children progress at their own pace, rhythm, and individual capabilities.
Our Primary program serves children ages 30 months to kindergarten.  This multi-age grouping is essential for supporting the social-emotional development of young children. The emphasis on peer-to-peer interactions provides for our students, the exposure to a variety of social roles. As a result, children who finish their three-year cycle in the Primary program will have the opportunity to be apprentices, partners, and mentors to their peers.
The use of auto-didactic (self-teaching) materials allows the children to comprehend abstract concepts through concrete, sensorial experience. In this way, true learning occurs in a direct and meaningful manner. The curriculum for Montessori Primary is designed to cultivate each child's natural tendency to learn through exploration and discovery in the areas of:
PRACTICAL LIFE – Enhancing the development of task organization and cognitive order through care of self, care of the environment, grace and courtesy, and movement;
SENSORIAL – Enabling the child to order, classify, and describe sensory impressions such as length, width, temperature, mass, colour, pitch and taste;
LANGUAGE – Developing spoken language, written expression, reading, grammar, drama and children's literature;
MATHEMATICS – Using manipulative materials to present concepts of number, symbol sequence, operations and the memorization of basic facts;
CULTURE & THE ARTS – Exposing the child to our world, the people in it and their traditions through the study of geography, history, life sciences, music, art and dance.
Children under the age of six possess what Dr Montessori termed the absorbent mind, which has the ability to assimilate their environment; including its physical, intellectual, cultural, and spiritual aspects without effort or fatigue. Because of this, she declared, "The most important period of life is not the age of university studies, but the first one, the period from birth to age six, for that is the time when man's intelligence itself, his greatest implement, is formed."
Three and four-year-olds attend school five days per week, either in morning or afternoon class sessions at our North Creek Montessori facility. Essential to the program is the opportunity for our students to be engaged in their activities within an uninterrupted three-hour cycle each day. Language programs in French and/or Mandarin are also available from 11:45am to 12:45pm for these students Mondays through Thursdays.
Third-year kindergarten students attend our Extended-Day program. This capstone year allows students who have attended half-day Montessori preschool to bring their educational, social and mentorship abilities to fruition. Emphasis is placed on in-depth cultural, math and language studies as well as outings and other enrichment programs with their peer group comprised of 10 to 13 students. This small group setting allows our teachers to focus on the individual development of each child and the consolidation of lessons presented in the previous years. Participation in the Extended-Day program is, therefore, extremely important for the completion of the three-year Montessori primary cycle. All Extended-Day students participate in French and Mandarin lessons, twice a week, as well as Yoga lessons, once a week.
Located close to the North False Creek Seawall, students at this campus participate in a wide variety of outdoor activities with visits to the local beach and parks.
Preschool Hours: 8:45am to 11:45am / 12:45pm to 3:45pm
Preschool Language Classes: 11:45am to 12:45pm
Extended-Day Hours: 8:45am to 3:45pm
Snack, consisting of organic fruits, vegetables, and cereal, is provided by the school. Hot Lunches are provided by the school for children attending the Full Day program and are optional for those in the Extended-Day program at our Vancouver campus.