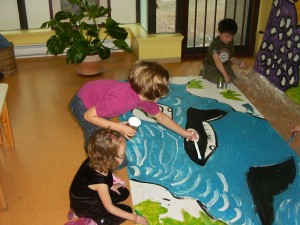 Step One: Attend a Tour of Our Facilities
We'd love to show you our facilities and explain our program to you in person! To schedule a tour, please contact us.
We recommend that you arrange child-care for this initial tour, if you child is under the age of three. Montessori environments and materials are very attractive to young children and their desire to engage with the materials can be disruptive to the tour. Thank you for understanding.
Step Two: Submit Application & Application Fee
To apply, complete the application form and submit it along with the $100 registration fee to: Lions Gate Montessori, P.O. Box 32138, Cambie RPO, Richmond, BC V6X 3R9. This fee covers the cost of processing your child's application. We will only process the cheque if we are able to offer a space for your child.
APPLICATION FORMS
Registration 1718_Preschool
Registration 1718 Kindergarten
Registration 1718 Elementary
Step Three: Meeting Your Child
If we did not meet your child at the initial tour, we'll schedule an informal interview to get to know him/her. Elementary and adolescent students may be asked to provide samples of school work, and visit the school for half a day.
Step Four: School Observation
A class observation will be scheduled for you to view our class in action prior to confirmation of enrollment. Kindly observe our Guidelines when you visit.
Step Five: Confirmation of Enrollment
Letters confirming enrollment will be sent by e-mail with instructions on due dates for payment and signed forms.
When all spaces are allocated, applicants will placed on a waiting list and contacted when an opening becomes available. Applicants must meet the school's Admissions Criteria and are chosen based on the need to balance gender and age as well as the best fit.
Thank you for your interest in Lions Gate Montessori School! We look forward to receiving your application and meeting your family. Please feel free to please contact us if you have any other concerns or questions.